Privacy Policy
The Antenna Bloke may, from time to time, review and update this privacy policy statement to take account of new laws and technology and changes to The Antenna Bloke's operations. Please visit this page periodically, to check for updates. All personal information held by The Antenna Bloke will be governed by its most recent policy, posted on The Antenna Bloke.
What kind of personal information The Antenna Bloke collects and how it is collected
The Antenna Bloke collects personal information from a variety of sources, including from members of the public, advertisers, prospective employees, mailing lists, recruitment agencies, contractors and business partners.
In general, the personal information The Antenna Bloke collects includes (but is not limited to) name, address, contact details, gender, occupation, in some cases membership of professional associations and, where relevant, financial information, including credit card information, banking details and income information.
Personal Information you provide: We store the personal information you enter on The Antenna Bloke or give to The Antenna Bloke in other ways. We obtain most personal information through The Antenna Bloke membership registration process and updates to membership details. You may provide information when you request or acquire a product or service from The Antenna Bloke or its related companies, provide a product or service to The Antenna Bloke, complete a survey or questionnaire, enter a competition, participate in forums or when you communicate with The Antenna Bloke by e-mail, telephone or in writing (for example if you contact customer service or provide feedback).
Automatic collection: Cookies: We may use a feature of your browser called a cookie to assign your computer a 'User ID'. Cookies contain information by which The Antenna Bloke can identify your computer to our servers. You may configure your browser so that you are notified before a cookie is downloaded or so that your browser does not accept cookies. The Antenna Bloke may use information contained in cookies to make assumptions about the user of the computer and to provide users of that computer with focused advertising that The Antenna Bloke believes may be of interest, based on that information. In some cases a web page might contain more than one cookie, the information gathered from these different cookies are used to build statistical and demographical information which does not identify you personally to advertisers and other third parties for marketing, promotional purposes.
To disable your cookies, please refer to the help menu within your Internet browser.
Indirect collection: The Antenna Bloke endeavours to collect personal information about an individual only from that individual. In some circumstances The Antenna Bloke may obtain personal information from a third party. If you provide personal information about another person to The Antenna Bloke, The Antenna Bloke requires that you inform that person you have done so and provide them with a copy of this policy.
How The Antenna Bloke uses the information you provide
The Antenna Bloke may use information it collects from you for the primary purpose for which it is collected and for such other secondary purposes that are related to the primary purpose of collection. The Antenna Bloke generally uses personal information to:
provide you with products or services you have requested;
personalise and customise your experiences on The Antenna Bloke;
help The Antenna Bloke manage and enhance its services;
communicate with you;
provide you with ongoing information about opportunities on The Antenna Bloke in which The Antenna Bloke believes you may be interested;
give you the opportunity from time to time to receive e-mail and 'e-newsletters' from The Antenna Bloke
In most cases where The Antenna Bloke asks you to provide information about yourself, if you do not provide The Antenna Bloke with that information, The Antenna Bloke will not be able to provide you with the requested product or service.
Disclosure
The Antenna Bloke may disclose personal information to other companies The Antenna Bloke is in partnership or a specific business relationship with  that may only use it as set out above.
The Antenna Bloke may also provide your information to:
third parties engaged by The Antenna Bloke to perform functions on its behalf, such as processing credit card information, mailouts, debt collection, marketing, research and advertising;
The Antenna Bloke uses Adam Internet to deliver the e-mails and e-newsletters you may ask to receive. By requesting an e-mail or e-newsletter from The Antenna Bloke, you agree that Adam Internet may use your personal information in this way.
How The Antenna Bloke treats sensitive information
"Sensitive Information" means information relating to a person's racial or ethnic origin, membership of political bodies, religion, membership of a trade union or professional or trade association, sexual preferences, criminal record and health. The Antenna Bloke may use and disclose Sensitive Information only for the purpose for which it was provided or a directly related secondary purpose or as allowed by law unless you have agreed otherwise.
Management and security of personal information.
The Antenna Bloke has appointed a Privacy Officer to oversee the management of personal information in accordance with this policy and the Commonwealth Privacy Act.
The Antenna Bloke protects the personal information The Antenna Bloke holds from misuse, loss, unauthorised access, modification or disclosure by various means including firewalls, pass word access, secure servers and encryption of credit card transactions.
Updating personal information
The Antenna Bloke endeavours to ensure that the personal information it holds is accurate, complete and up-to-date. You can update your The Antenna Bloke membership information by contacting The Antenna Bloke.
You can generally update personal information that is not membership information on the website of The Antenna Bloke where you submitted that information. Where personal information is no longer required by The Antenna Bloke, it will be destroyed or de-identified.
Seeking access to the personal information The Antenna Bloke holds about you
You have the right to seek access the personal information held about you and to advise The Antenna Bloke of any inaccuracy. There are some exceptions to this right set out in the Privacy Act.
If you make an access request, The Antenna Bloke will ask you to verify your identity and specify what information you require. The Antenna Bloke may charge a fee to cover the costs of meeting your request.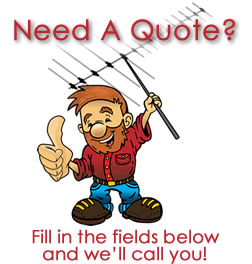 The Antenna Bloke is Australian government endorsed for
installing digital ready antenna systems, so you know the job
you're getting done is getting done by a professional.
Each time we have used Rob,he has been above expectations both in workmanship and professionalism, we would not hesitate to recommend the Antenna Bloke to all concerned.
Thanks again Rob.
Phil, Freeling: Service Rating: Excellent - 5 Stars
Rang Rob Barton one day to remove old antenna and upgrade to a new antenna as well as moving it to a new location on the roof. He just happened to be around the corner from us and came within minutes, gave us a quote, which I thought was fair and reasonable, gave the go ahead and he installed same day without any fuss. I found Rob to be very polite and courteous when he came to the door, got on with the job and was out within an hour. I would thoroughly recommend The Antenna Bloke to any of my friends.
Michael, Tanunda
Just a quick email to say thank you so much for your prompt
and courteous service! You are a champion!
Marie, Flaxmans Valley