Antenna Bloke Testimonials
Phil from Freeling wrote:
Service Rating: Excellent - 5 Stars
Each time we have used Rob,he has been above expectations both in workmanship and professionalism, we would not hesitate to recommend the Antenna Bloke to all concerned. Thanks again Rob.
Michael from Tanunda wrote:
Rang Rob Barton one day to remove old antenna and upgrade to a new antenna as well as moving it to a new location on the roof. He just happened to be around the corner from us and came within minutes, gave us a quote, which I thought was fair and reasonable, gave the go ahead and he installed same day without any fuss. I found Rob to be very polite and courteous when he came to the door, got on with the job and was out within an hour. I would thoroughly recommend The Antenna Bloke to any of my friends.
Mark and Penny from Tanunda wrote:
We found Rob very friendly and obliging. He answered our call and arranged to come and give us a quote in a couple days time. In his quote he allowed for all work that might need doing, but explained to us that he would have to put up the new antenna before knowing if we would also need the amplifier. He allowed us to make decisions rather than demanding that all work go ahead. We are very happy with the final result which should keep us watching quality TV reception for years to come.
Peter from Nuriootpa wrote:
Very prompt and thorough service with good attention to detail. Carefully and systematically solved the problem. Very good value for money and highly recommended.
The Anson's from Gawler South wrote:
The gentleman named Rob who fitted our antenna was very helpful and considerate, he organised the right antenna and fittings that we required. It was hassle free, prompt service. We would recommend him to anyone needing this type of service. Many thanks :)
Marie from Flaxmans Valley wrote:
Just a quick email to say thank you so much for your prompt and courteous service! You are a champion!
Richard from Kapunda wrote:
Punctual, courteous and quite happy to do some extra work at short notice. Work carried out to a high standard. No hesitation to recommend to my friends and acquaintances.
Andrew from Kapunda wrote:
Very happy, called thurs arvo, Rob was on the job 10am the next morning. The quality of the antenna is great. He even knocked $60 off the price! All good, very happy and will recommend Rob to my workmates. Cheers, thanks for a good service.
Kevin from Stockwell wrote:
Prompt and courteous attention with advice before and after installing the amplifier. Good service!
Get A Quote Form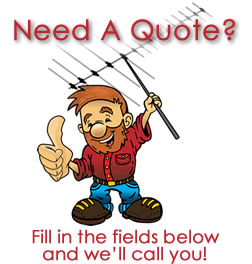 The Antenna Bloke is Australian government endorsed for
installing digital ready antenna systems, so you know the job
you're getting done is getting done by a professional.
Each time we have used Rob,he has been above expectations both in workmanship and professionalism, we would not hesitate to recommend the Antenna Bloke to all concerned.
Thanks again Rob.
Phil, Freeling: Service Rating: Excellent - 5 Stars
Rang Rob Barton one day to remove old antenna and upgrade to a new antenna as well as moving it to a new location on the roof. He just happened to be around the corner from us and came within minutes, gave us a quote, which I thought was fair and reasonable, gave the go ahead and he installed same day without any fuss. I found Rob to be very polite and courteous when he came to the door, got on with the job and was out within an hour. I would thoroughly recommend The Antenna Bloke to any of my friends.
Michael, Tanunda
Just a quick email to say thank you so much for your prompt
and courteous service! You are a champion!
Marie, Flaxmans Valley